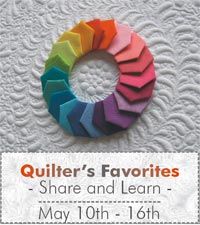 Geta Grama
's idea for this week's blog hop was wonderful! The tips shared by the participating bloggers were very useful: Quilters are a generous bunch when it comes to imparting their knowledge.
Above all, I enjoyed reading and responding to your comments! It is difficult to imagine life without this blog and all the wonderful people I have gotten to know through it. I am so lucky!
Speaking of luck, here is the winner of the giveaways for this blog hop,
(Read more) of this post on Denise Russell's Blog...